M Butterfly in Cebu: Meet & Greet and Sneak Peek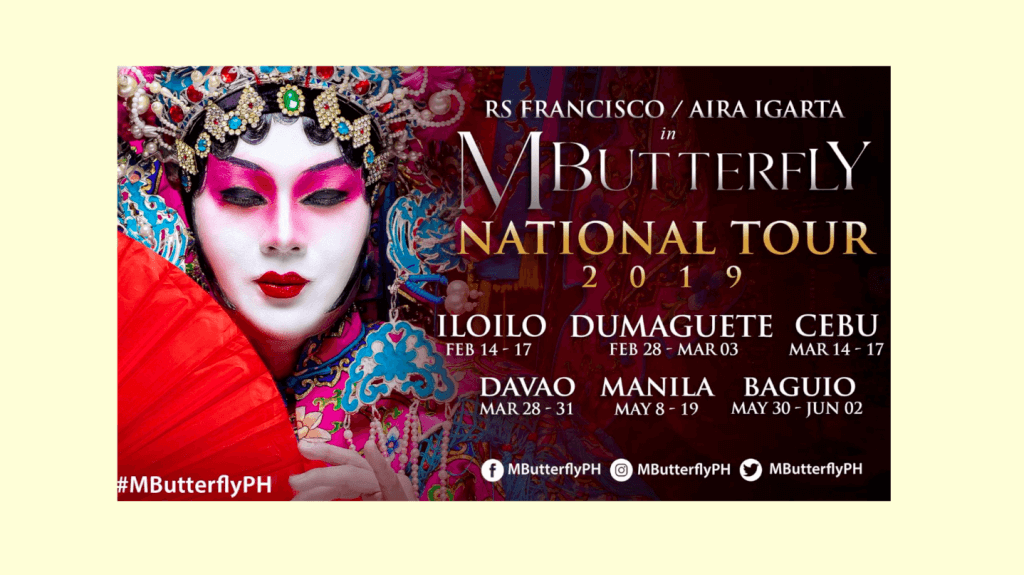 About the Casts
RS FRANCISCO, the 2018 Aliw Award Best Actor for M. Butterfly shall reprise his iconic portrayal of Song Liling, the Chinese opera singer who seduces Gallimard, who is attracted to her, through his biases of the East then exploits their intimacy to collect classified information for agents of the Chinese Communist Party.
RS first ventured this role in May 1990 for Dulaang UP, opposite veteran actor, writer and critic Behn Cervantes. On its debut, M. Butterfly immediately rose to critical acclaim with packed houses and box office success in over 100 performances throughout the Philippines.
In the many years thereafter, RS Francisco's theater credits in numerous productions and variety of roles continued to hone his craft as a compleat artist. In films, his most awards include the SINAG MAYNILA Best Actor, the STAR AWARDS Movie Actor of the Year and the SUBIC BAY INTERNATIONAL FILM FESTIVAL Best Actor.
When M. BUTTERFLY was revived recently on Broadway, RS had thought of bringing it to life once again to the new theater audiences of today. After all, this is the only 'one' role that continues to remain as closest to his heart.
To add a diverse twist to the M. Butterfly National Tour 2019, young actor AIRA IGARTA will step into the role of Song Liling as alternate in certain performances. As an original member of the Kurogo ensemble of the play's 2018 Manila run, Aira is a stage and film actor from the Theatre Arts Program of UP Diliman where he took part in several Dulaang UP and Dulaang Labortoryo productions. Trained by the likes of Tony Fabella and Luther Perez, Aira was originally a dance and voice scholar at Quezon City Performing Arts Foundation (QCPADFI).
French actor OLIVIER BORTEN shall essay the role of Rene Gallimard, a former French diplomat, who relates the story of his passionate, disastrous affair with Song Liling from his cell in a Paris prison, where he is serving a long sentence for treason.
Philippine theater royalty JENINE DESIDERIO, who among many other theater, film, television and recording credits, assumed the lead role as Kim in the West End's original Miss Saigon, will portray Gallimard's wife – Helga. The pair married as a matter of convenience; Helga's father had diplomatic connections that helped Gallimard ascend in his career.
After 25 years of stage acting experience in the United Kingdom, Scottish NORM MCLEOD has stepped in the Philippine stage as Manuel Toulon, the French Ambassador to China who also happens to be the dominant and strong-willed superior of Gallimard at the embassy in Beijing. Toulon promotes Gallimard to vice-consul and charges him with collecting information to aid the American war in Vietnam.
Trilingual American actor LEE O'BRIAN will once more personify Marc, the sexually unapologetic best friend of Gallimard. He encourages Gallimard to take sexual advantage of the women around him without regard for their feelings or even their consent. Although M. Butterfly was Lee's first theatrical endeavor, his acting skills have already been tried and tested in international films "Edsa Woolworth" and "Forgive Me Father". O'Brian also portrays Sharpless in M. Butterfly for a brief while.
Portraying the different roles of Suzuki, Comrade Chin and Shu Fang is powerful and well-rounded artist MAYEN ESTAÑERO. Her impressive performance in the 2018 run of M. Butterfly landed her an Aliw Awards nomination for Best Featured Actress. Mayen's previous theater credits include Dalanghita Production's Corazon Negro, An Operetta as Maestra, Virgin Labfest's Mula sa Kulimliman as Leila and Sugid Production's Buwan at Baril as Asawa. Comrade Chin is a member of the Red Guards, a paramilitary arm of the Communist Party in China. Song communicates with Comrade Chin often, to pass on the classified information he gathers from Gallimard.
Twice a finalist as Best Actress for the Aliw Awards, MAYA ENCILA receives her third nomination as Best Featured Actress for her unique characterization of Renee and Pin-Up Girl in M. Butterfly. The stunning Arizona native plays a young, sexually liberated Danish woman with whom Gallimard has an affair. Renee's boldness presents a stark contrast to Song's modesty, which Gallimard finds both exciting and obnoxious. A true expert in performing arts, Maya has taken the stage countless times as Mary Lennox for The Secret Garden, as Belle for Repertory Philippines' Beauty and the Beast musical and as Lara for Philippine Stagers' KATIPS, to name a few.
Rising soprano star JASMIN SALVO will be the new Opera Singer for the national tour.
The members of the ensemble playing the role of Kurogo are as follows: PHEITH IENA BALLUG, ULLYSES BASA, SASA CABALQUINTO, FRANCO FERRER and JOHN PAUL ORTENERO.
The artistic team of M. Butterfly as follows: Jhett Tolentino and RS Francisco (Producers), Ohm David (Set), Eric Pineda (Costume), John Batalla (Lighting), Jethro Joaquin (Sound), Joed Balsamo (Music) and Carissa Adea (Choreography).
Read Related Posts: M. Butterfly 2019 National Tour Final Playdates on March 14-17 in Cebu
---
This post is for M. Butterfly collaboration
Related