South Escapade: Oslob, Samboan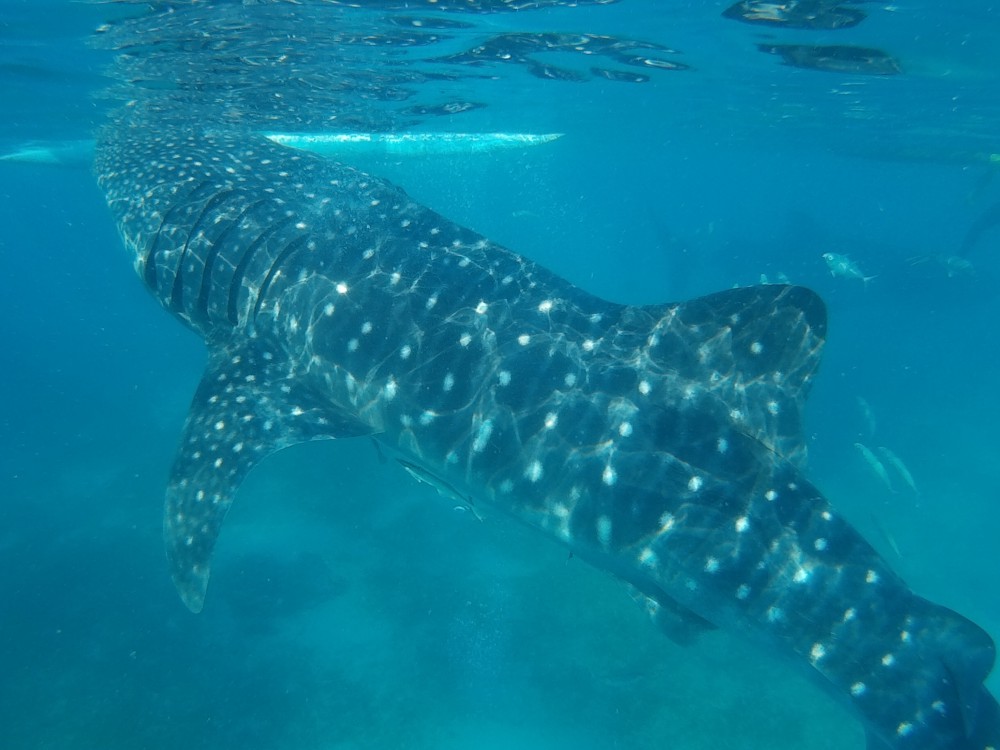 There are tons of amazing adventures that South Cebu offers. Stunning beaches, awesome waterfalls, and friendly giants. Accompanied with good friends, we explored the south part of Cebu with in two days.
Where we went?
First: AGUINID FALLS
Aguinid Falls  is located in Samboan Cebu, 150 kilometers away from Cebu City. It is made up of five levels. Each levels have different structures, height, width, and challenges. From level zero, we climbed until level five, which actually really fun and rewarding in the end.
Before going to the river, register and pay the Php20.00 entrance fee first. The fee is used for the maintenance of the area.
Visitors need to acquire a guide here. It depends on the number of members on your group. For example, we were 12 members and we hired 4 guides.  The guides don't have fixed rates so it depends on you how much you will pay for them. Please, be kind and pay your guides the amount they deserve.
Second: WHALE SHARK WATCHING
This is one of best I've experienced in my life. Swimming with these gentle giants was truly amazing. Though I know that this activity may be harmful to these animals, but we should keep in mind that as a tourist we must always follow guidelines and rules. For example: DO NOT wear sunblock, since this can harm the whale sharks.
If you plan on going whale shark watching, I recommend to visit here early morning, between 6 and 9 AM. It is only until 12:30 PM each day.
WHALESHARK WATCHING RATES:
P500 for local tourists
P1500 for foreign tourists
P300 for those who would stay only on the boats.
Third: SUMILON ISLAND
After our whale shark watching experience we went straight to this beautiful sandbar in Sumilon Island. We rented a boat for Php 2500, and it was just 20 minutes away from Tan-awan.
We were the first one to arrived so we have the whole sand bar as our play ground. But as time goes by, many tourists came. We spent our lunch here. We brought our own supply of water and food since we were not a guests of Bluewater Resort, we have no access to restaurants in the island.
Fourth: TUMALOG FALLS
Last stop, Tumalog Falls. One of the famous destination in Oslob. Awesome to see such greenery curtain of water with beautiful rock formation. It has also freezing cold water, and we made the best decision to go here after Sumilon Island.
Going to the falls, we walked downhill for about 15-20 minutes. I thought going there was already tiring since I need to keep balance because it was really steep.
Going back up is another story. It was more tiring since we were going uphill. But despite the fact that we are all tired, we had a race to reach the top. I think it was all caused of not having enough sleep because of wolf-wolf (A game of Honesty
).
All in all. Our south escapade was awesome. With good company, going to places will always be memorable.We had a great time together and I'm looking forward to explore more destinations in the South side of Cebu.
DETAILS
How to get to Oslob?
Go to the South Bus Terminal in Cebu City, take a bus bound to Oslob. It's a 3-4hours of travel.
Where we stayed?
We stayed at L & M Heartstones Lodge.
For inquiries and reservations, just call:
Sun: 09228776738 (Tata Puspus) / 09237344076 (Nonoy Puspus)
Smart: 09088955340 (Nonoy Puspus)
Landline: (032) 582-0373 / 481-8019
ITINERARY
DAY 1
08:00AM Meet up at South Bus Terminal
09:00AM ETD Oslob
12:00NN ETA Oslob
12:30PM Lunch
01:00PM ETD Aguinid Falls, Samboan
02:00PM ETA Aguinid Falls, Samboan
02:15PM Start of trek and climb at Aguinid Falls
03:45PM End of trek and climb at Aguinid Falls
04:00PM ETD Lodging House at Oslob
05:00PM ETA Lodging House at Oslob
06:00PM Dinner
07:00PM Socials/Karaoke Night
12:00MN Lights Off
DAY 2
05:00AM Wakeup Call/ Sunrise View
06:00AM Breakfast
06:30AM ETD Tan-awan (Whaleshark Watching)
07:00AM ETA Tan-awan (Whaleshark Watching)
07:30AM Whaleshark Watching
08:00AM Done Whaleshark Watching
09:00AM ETD Sumilon Island
09:20AM ETA Sumilon Island
01:00PM ETD Tan-awan (Going Back)
01:30AM ETA Tan-awan
02:00PM ETD Tumalog Falls
02:30PM ETA Tumalog Falls
05:30PM ETD Cebu City
08:30PM ETA Cebu City
09:00PM Home Sweet Home
---
Have you been to Cebu? I would like to hear your experience. Just comment below! 
Related